Exporting From China By The Numbers: HTS (US)
(Mar 2)
Companies deciding whether to export products from China must carefully weigh immediate and long-term profit potential against the costs of shipping and entering their products into foreign markets. The most important considerations are whether the laws of China and the foreign country allow the products to be traded and, if so, whether licenses must be...
Continue Reading
The post
Exporting From China By The Numbers: HTS (US)
appeared first on
China Law Blog
.
Bangkok to Cambodia by Train
(Mar 2)
In recent years my vacation time had become so compressed that there was rarely ever the time to take the scenic longer route anywhere. When it came to visiting Cambodia it would have been fastest to fly in via Bangkok or Ho Chi Minh but since I had managed to carve out two weeks of […]
China Contracts: Calling A Table A Chair Is Not Clever.
(Mar 1)
I like this cartoon because it is funny. But I love this cartoon because it is so China relevant. This cartoon was sent to me by my friend Roberto De Vido, whose  own very funny and topical cartoons can be found here. Roberto told me that "he knew" I would like this and then we discussed some...
Continue Reading
The post
China Contracts: Calling A Table A Chair Is Not Clever.
appeared first on
China Law Blog
.
Full Transcript: Chen Guangcheng Escape Video
(Apr 27)
This transcript was not translated by me. My Chinese is not that good. It was sent to me by a Chinese friend... Dear Premier Wen, with great challenge I escaped.  All the rumours and accusations of violence on me and in Linyi, as the litigant, I prove to you all that they're all true.  The truth is only worse than what's been spread online.  (00:34)  Premier Wen, I formally raise the following 3 requests from you.   Screen: strictly punish criminals in accordance to law "Firstly, (I hope) you will personally look into this case.  Appoint investigation team for thorough investigation,  (00:57) and reveal the truth.  Who sent out the order to 70 to 80 county public security and Party cadres to enter into my house and violently beat us up and harm us with out any legal documentation, none of them were wearing uniform, and forbidding us from seeking medical care after being injured in the violence.  Who made this decision?  This must be thoroughly investigated, and must be dealt wit...
Web Comic
(Dec 28)
Well, I learned to stop worrying and love the bomb so I no longer have any opinions about politics. However, I am working on a web comic. If you're interested, here it is: Fast Tall Grow Up
Ai Weiwei iPhone Wallpapers
(Dec 3)
I'm currently using the following two images as the lock screen wallpaper and home screen wallpaper, respectively, on my iPhone, and thought some of you might like to do the same. Click for the proper iPhone 4/4S resolution versions of each image. The color version: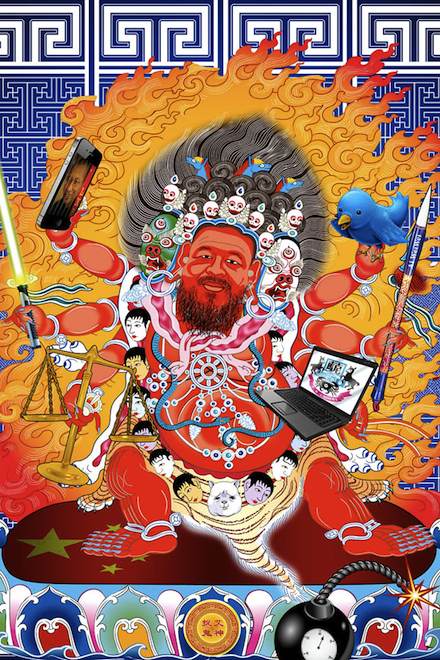 The black and white version, darkened to sit behind your icons without unnecessary distraction: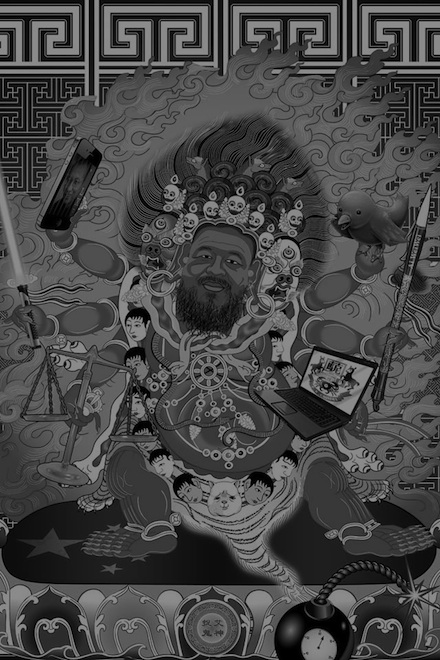 The image is adapted from a project by Kenneth Tin-Kin Hung called
The Travelogue of Dr. Brain Damages
.
Libya and Tianamen
(Feb 22)
Interesting BBC Article: http://www.bbc.co.uk/news/world-middle-east-12544624 Here's a nice quote from everybody's beloved Gaddafi: Anyone who played games with the country's unity would be executed, he said, referring to the Chinese authorities' crushing of the student protests in Tiananmen Square among other historical events. Except unlike the Chinese protesters of 6-4, those in Libya have guns. Economist: http://www.economist.com/blogs/newsbook/2011/02/libyas_uprising An […]
Jasmine Revolution
(Feb 21)
http://www.bbc.co.uk/news/world-asia-pacific-12522856 I liked the part where they said the crowd "appeared to be mostly curious onlookers". Reminds me of the Carrefour protests where a good number of the 'protesters' where just there to gawk. Protesters in China should learn a bit from 19th and early 20th century Communist tactics. The people must be made to […]
HAPPY CHINESE NEW YEAR!
(Feb 3)
2011 Year of the (metal) Rabbit! I hope it is a great one for all of you. I know I am looking forward and anticipate some real positive change...
Media Coverage of Egypt Riots Uses 'Tam '89 Style Book
(Feb 3)
Anglo-American media interpret the mobs that shut down Cairo and other cities of Egypt as "pro-democracy protesters" that riot for "freedom" leading Americans to believe that the most important thing to a poor Egyptian is whether he/she can Twitter without obstruction. The coverage of the riots in Egypt is shockingly sloppy - celebrity journos are all on the scene and as in the late stages of the Tiananmen riots in 1989 they report mostly from the top floor suites of luxury hotels overlooking and speculating on events on the ground. At what point will any real reporting be done about the true underlying causes of the frustration in Egypt? The grinding poverty that gives Egypt a per capita income about one half that of China and without the sizeable affluent class structure. And more importantly the population explosion underway in the country. Egypt's population is set to grow 94% and peak at 136 million by 2075 according to UN statistics making Egypt one of the 15 most populated na...