Happy Thanksgiving To You Our Wonderful Readers
(Nov 27)
On this Thanksgiving Day, we want to take a bit of a time out to express those things related to China for which we are thankful. Just to be clear, we are focusing on China, not because we think China takes priority over everything else (because it does not), but merely because this is a China...
Continue Reading
How To Sue Chinese Companies, Part 4
(Nov 25)
This is Part 4 of this series on how to sue a China company. This is the final post explaining what you can do to try to secure redress against a Chinese company that owes you money or has wronged you. Part 1 dealt with jurisdiction and on Hague Convention service of process. Part 2 was on conducting discovery against a Chinese...
Continue Reading
Todoroki Valley: Tokyo's Hidden Oasis
(Nov 13)
Tokyo is full of famously well manicured gardens (exhibits A, B, C, D, E…) but few know of the lush and untamed Todoroki Valley (等々力渓谷) which hides in the middle of Setagaya ward. On a lazy Sunday afternoon I set out to discover this lost world. A short walk from Todoroki Station (等々力駅) the one […]
Emily, the movie's Director Desi Scarpone – Filmography
(Nov 16)
Below is the Filmography of the Director of Emily, the movie – Desi Scarpone: Director 2012 Honor Killing (short) 2004 Dark Town (video) 2003 Deadfall (video) 2003 Dealin' Dirty (video) 2003 Retribution (video) 1987 Rockin' with a Bullet (video) Producer …
Continue reading
Full Transcript: Chen Guangcheng Escape Video
(Apr 27)
This transcript was not translated by me. My Chinese is not that good. It was sent to me by a Chinese friend... Dear Premier Wen, with great challenge I escaped.  All the rumours and accusations of violence on me and in Linyi, as the litigant, I prove to you all that they're all true.  The truth is only worse than what's been spread online.  (00:34)  Premier Wen, I formally raise the following 3 requests from you.   Screen: strictly punish criminals in accordance to law "Firstly, (I hope) you will personally look into this case.  Appoint investigation team for thorough investigation,  (00:57) and reveal the truth.  Who sent out the order to 70 to 80 county public security and Party cadres to enter into my house and violently beat us up and harm us with out any legal documentation, none of them were wearing uniform, and forbidding us from seeking medical care after being injured in the violence.  Who made this decision?  This must be thoroughly investigated, and must be dealt wit...
Web Comic
(Dec 28)
Well, I learned to stop worrying and love the bomb so I no longer have any opinions about politics. However, I am working on a web comic. If you're interested, here it is: Fast Tall Grow Up
Ai Weiwei iPhone Wallpapers
(Dec 3)
I'm currently using the following two images as the lock screen wallpaper and home screen wallpaper, respectively, on my iPhone, and thought some of you might like to do the same. Click for the proper iPhone 4/4S resolution versions of each image. The color version: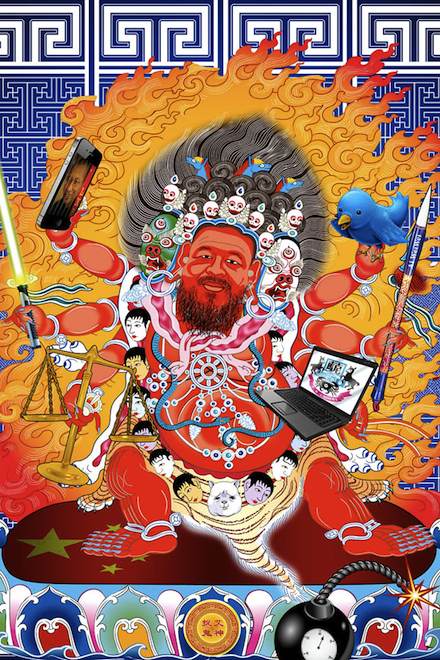 The black and white version, darkened to sit behind your icons without unnecessary distraction: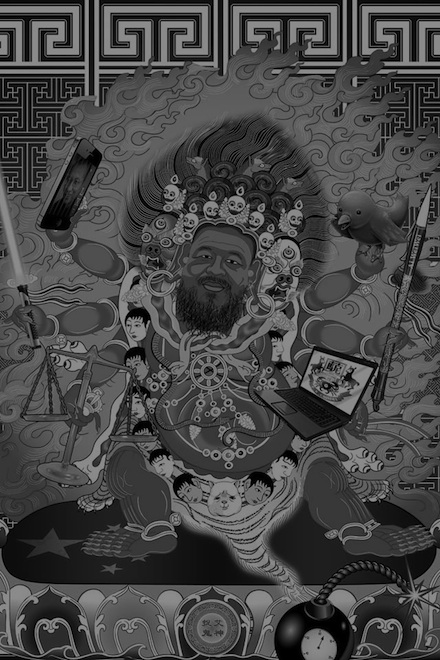 The image is adapted from a project by Kenneth Tin-Kin Hung called
The Travelogue of Dr. Brain Damages
.
Libya and Tianamen
(Feb 22)
Interesting BBC Article: http://www.bbc.co.uk/news/world-middle-east-12544624 Here's a nice quote from everybody's beloved Gaddafi: Anyone who played games with the country's unity would be executed, he said, referring to the Chinese authorities' crushing of the student protests in Tiananmen Square among other historical events. Except unlike the Chinese protesters of 6-4, those in Libya have guns. Economist: http://www.economist.com/blogs/newsbook/2011/02/libyas_uprising An […]
Jasmine Revolution
(Feb 21)
http://www.bbc.co.uk/news/world-asia-pacific-12522856 I liked the part where they said the crowd "appeared to be mostly curious onlookers". Reminds me of the Carrefour protests where a good number of the 'protesters' where just there to gawk. Protesters in China should learn a bit from 19th and early 20th century Communist tactics. The people must be made to […]
HAPPY CHINESE NEW YEAR!
(Feb 3)
2011 Year of the (metal) Rabbit! I hope it is a great one for all of you. I know I am looking forward and anticipate some real positive change...